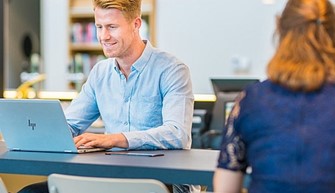 Acknowledge raises growth capital at Rabobank-backed MGF
25 February 2022
IT services provider Acknowledge receives growth capital from Rabobank backed investment fund MGF, who obtains a minority stake in Acknowledge. Before this transaction, Acknowledge was wholly owned by its CEO Hank van der Put. With the additional capital, Acknowledge can realize its growth ambitions and expand its service portfolio.
Transaction:
Capital raising
With creativity, passion, and optimal use of solutions, services, and technology, Acknowledge supports organizations in a rapidly changing world. In 2020, Acknowledge will grow towards €40 million in annual revenues and almost 300 employees. Acknowledge has become an increasingly integrated partner who supports customers by solving complex digital problems through consultancy, implementation, and managed services. Important customer sectors are healthcare, retail, high tech, government, education, and business services.
Acknowledge, headquartered in Waalre (Brainport region), was founded 25 years ago. Over the past 10 years, it has evolved from a traditional IT reseller into an IT services company. Acknowledge currently provides managed services, cloud services, IT outsourcing, and related activities to small, medium and large enterprises, a.o. Volvo, Sligro, and Stater. According to Paul van Logtestijn, partner at MGF, the company has the potential to double its size in the coming 3 years. This growth can be realized both autonomously and through add-on acquisitions. Fitting acquisitions will be financed by the cashflow of Acknowledge and through debt financing.
MGF invests in ambitious small- or medium-sized enterprise in need of capital for a management buy-out or for growth. One of the pillars of MGF is to preserve continuity of family businesses. The fund is positioned tob e a natural partner for SME business owners. As most important source of funding, Rabobank provides an attractive financing solution for growing companies.
"I became involved full-time at Acknowledge in 2011. Since then we have successfully transformed Acknowledge from a traditional IT reseller to a digital partner, thanks to an enthusiastic team. It is our mission to realize progress by connecting the strength of people, organizations and technology. With the support and network of MGF, and the drive of our people, we can better carry out this mission, deliver sustainable IT solutions, and become an established IT service company in the Brainport region", says Hank van der Put, CEO of Acknowledge.
Paul van Logtestijn on the transaction: "IT companies experiencing rapid growth need tailored solutions, which we are happy to provide. Hank is an entrepreneur with a strong vision and is capable of taking Acknowledge to the next level. We share his vision on IT market developments and the way Acknowledge should adapt to it. We are a natural partner for Acknowledge with regards to facilitating growth."
All transactions