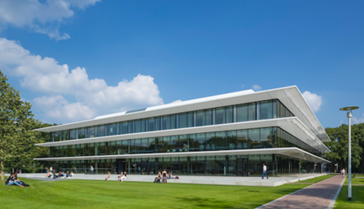 Berghege joins forces with Heerkens van Bavel and Alphons Coolen
25 February 2022
The Berghege and Heerkens families consider the long-term perspective of their construction companies to be of fundamental importance. That is why the ownership of Berghege, Heerkens van Bavel/Alphons Coolen will be transferred to a new, to-be-established holding: Berghege Heerkens construction group, in which both families will share ownership.
Sector:
Building & Real estate
Activity:
Building and construction
Founded as an artisan carpentry company in 1924 in Oss, Brabant; Berghege realizes special structures in various market segments throughout the Netherlands. From large utility buildings to smaller residential projects. From design & build to service and maintenance. The strong values continue to be felt throughout the family business. Committed, responsible, and loyal. Creative and flexible. With short lines of communication and decision-making power. A deal is a deal. That is what characterizes Berghege.
Building contractor Heerkens van Bavel was founded by Sjef Heerkens in Tilburg in 1902. With the addition of his wife's name ten years later, Heerkens van Bavel Bouw was a fact. The family business still stands for expert craftsmanship. Heerkens van Bavel realizes high-profile and special projects in the corporate, recreational, healthcare, residential, cultural, and industrial sectors. Innovative and with a future-oriented outlook. Heerkens van Bavel designs, develops, builds, manages and maintains. From new construction to renovation. From small service orders to major maintenance.
The Berghege Heerkens construction group, with revenues of 160 million euros and 320 employees, will be one of the larger construction firms in the Netherlands. Both companies will continue to focus on non-residential and residential construction, service and maintenance.
Jan Berghege, managing director of Berghege, on the merger: "With the long-term perspective in mind, we are taking this important step to not only guarantee our independence and be able to maintain our organizational culture, but also to emphasize and expand the cooperation between our companies. To us, the formation of the Berghege Heerkens group does not come out of nowhere. Rather, this feels like the logical next step, based on our proven and longstanding cooperation. When it comes to large and complex projects, Berghege and Heerkens van Bavel already work together under the labels 'Carebuilders', for the healthcare sector, and 'Build2learn', for the education sector. Well-known examples of joint projects include the Faculty of Law (Grotius building), Faculty of Social Sciences (Maria Montessori building) of the Radboud University Nijmegen, the Academic Hospital Maastricht, and the Central Military Hospital in Utrecht."
Cees Heerkens, president of Heerkens van Bavel: "As construction companies Berghege and Heerkens van Bavel, which also includes Alphons Coolen, we are very strong and financially sound family businesses. Together we have been writing more than 200 years of building history. We both believe in the power of our family businesses with their own culture and with great respect for our craftsmen, who often have been with us for a long time. In everything we do, we are focused on long-term relationships with clients, employees, subcontractors and suppliers. Many of our employees have come to know each other and the power of our cooperation through and through. It has turned out that our family business cultures fit seamlessly together, with at heart our shared values of independence, pride, cooperation, short lines of communication, and being down to earth. In short, we will continue to write building history, under the trusted names of Berghege, Heerkens van Bavel and Alphons Coolen in the way our clients are used to from us. Tom Bongers and Gilbert Ceelen will join the management team of Berghege. Current directors Peter Kamermans and Toin Meeuwsen remain the directors of Heerkens van Bavel and Alphons Coolen, respectively.
All transactions