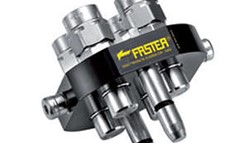 Capvis Equity Partners acquired Faster S.p.A. from Argan Capital
25 January 2022
Fineurop Soditic acted as financial adviser to the Swiss private equity operator Capvis Equity Partners AG, in the acquisition of Faster S.p.A. from Argan Capital, in a secondary buy out transaction. The company's management will invest in Faster alongside Capvis.
Country:
Italy-Switzerland
Activity:
Hydraulic components
Established near Milan in 1952, Faster is a leading manufacturer of quick-release hydraulic couplings and multi-couplings for medium- to high-pressure applications such as agricultural, construction equipment and oil&gas. Faster has around 400 employees and has a strong presence in USA and in emerging markets (mainly China, India and Brazil) and generated 2013 sales of €85 million, with an EBITDA margin of 13.4%. With the support of Capvis, Faster will further expand its international footprint and will extend its product range.
All transactions