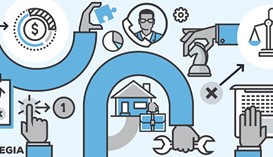 Covisian acquired 100% stake in CSS S.p.A.
1 February 2022
Fineurop Soditic acted as financial adviser to Covisian, controlled by the private equity fund Aksìa Capital IV, in the acquisition of 100% stake in CSS S.p.A..
Sector:
Business services
Activity:
Credit recovery business
Founded in 1993, CSS is one of the major Italian players in the credit collection business and litigation management business. It employs 260 people and registered a turnover of €10 million with an EBITDA margin of 16%. The company has a portfolio of high profile clients such as UniCredit, TIM, Findomestic, Agos, Compass, Credem and Unipol. Covisian, with a turnover of €120 million, was born from the initiative of Aksìa Group SGR S.p.A. at the beginning of 2016, with the acquisition and integration of Visiant Contact and Contacta. Through this investment, Covisian strengthens its position in the credit collection business. The know-how of CSS, integrated with the expertise of Covisian, enables a complete offering for credit management. The transaction is part of Covisian's strategy that aims at growing both in Italy and abroad, through add-on acquisitions.
All transactions