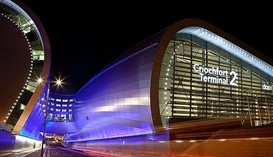 daa issues unsecured debt of €400 million
15 February 2022
Goodbody acted as co-manager on 12 year senior unsecured debt.
Transaction:
Capital raising
Sector:
Leisure & Hospitality
Activity:
Airport operator
daa operates Dublin and Cork airports in Ireland and has significant overseas businesses through its ARI and daa International subsidiaries in addition to the Dublin Airport Central development at Dublin Airport. Dublin and Cork airports are the two largest airports in the Republic of Ireland, welcoming a combined 30.1 million passengers in 2016. ARI is a leading international travel retailer, with operations in 10 countries and also hold the Group's 20% stake in Düsseldorf Airport. daa International is an airport management, aviation advisory services and training business. The Group's core purpose is to connect Ireland with the world and its vision is to be an airport industry leader that will grow its business by delivering great service and value for airlines, passengers and business partners.
All transactions