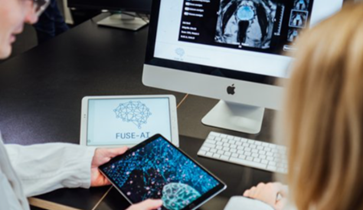 Early stage investor Xlife Sciences AG invests in FUSE-AI
25 February 2022
Hamburg Commercial Bank acted as exclusive M&A advisor to the artificial intelligence start-up FUSE-AI for the initial seed-financing round.
Transaction:
Capital raising
Country:
Germany - Switzerland
Activity:
Medical diagnosis software
FUSE-AI is a start-up company founded in Hamburg, Germany, specialized in artificial intelligence (AI) solutions for the healthcare sector. The company is aiming to contribute to better medical care with intelligent software using modern deep learning algorithms. The AI-supported system is analyzing medical images, making them available to the healthcare industry via cloud technologies.
With this capital round, FUSE-AI will be able to drive the product development and attract additional specialists for its interdisciplinary team of software developers and medical scientists. "We see more and more application possibilities for our know-how and we will continue to invest", said Matthias Steffen, one of the founders of FUSE-AI. With its new investor, FUSE-AI will also get access to additional fields of applications for AI in the medical sector, for example in the field of active ingredient research.
All transactions