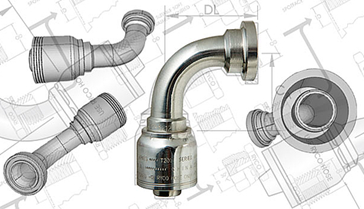 NB Renaissance Partners to acquire Hydro Holding from Mandarin Capital Partners, Atlante Private Equity, the founding families and other minority shareholders
25 February 2022
Fineurop Soditic acted as financial advisor to Mandarin Capital Partners, Atlante Private Equity, the founding families and other minority shareholders in the sale of a majority stake in Hydro Holding to NB Renaissance Partners (NBRP), Neuberger Berman's private equity business in Italy.
Activity:
fittings for the oleodynamic industry
Hydro Holding is the result of the strategic combination of leading Italian producers of fittings for the oleodynamic industry: Tieffe (one of the largest European producers of carbon steel fittings), FB Hydraulic (leader in the production of hose fittings and in the assembling of flexible hoses and rigid pipes), MCS Hydraulics (specialized in the production of stainless steel fittings) and Raccorfer (a cold forming technology specialist).
With four production plants in Italy and one in the Czech Republic, the Group offers a full range of fittings for flexible hoses, adaptors, assembled hoses and rigid pipes for high-pressure hydraulic systems with main application in agriculture, construction, mining, material handling and transportation. It serves a global customer base including assemblers and distributors, which dominate the aftermarket channel, as well as OEMs.
Hydro Holding employs approximately 310 people and it is expected to post 2018 sales of Euro 60 million (80% of which generated abroad) with an EBITDA margin of approximately 25%.
Hydro Holding, already well positioned in the hydraulic components market, will benefit from NBRP's expertise, financial
resources and global network to take advantage of significant growth opportunities to explore in this new phase of development.
All transactions