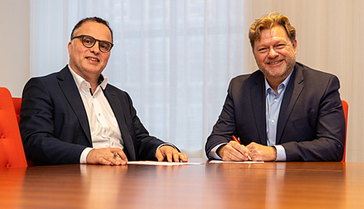 Norwegian Visma Group acquires Dutch cloud software provider EBPI
25 February 2022
Visma Group, leading provider of business-critical software to private and public enterprises in the Nordic, Baltic and Benelux regions, has reached an agreement to acquire Dutch cloud software provider EBPI, one of the leading providers of governmental Software (SaaS) in the Netherlands. The transaction will be filed with the Dutch competition authorities.
Country:
Norway - Netherlands
Activity:
Software as a Service (SaaS)
EBPI (European Business Process Institute) is a dynamic, fast growing IT-provider with a team of c. 250 employees. EBPI is a specialist within the Netherlands in the field of qualified message traffic. EBPI makes the digital exchange of information between government, companies and people safer, more effective and more efficient. Thus, EBPI contributes to digitizing society while keeping facilities affordable. The services provided by EBPI ensure safe, fast and reliable messaging in logistical, financial and administrative flows for business, government and other public organizations.
Visma offers software and services that simplify and digitise core business processes in the private and public sector. The Visma group operates across the entire Nordic region along with Benelux, Central and Eastern Europe. With over 8,500 employees, more than 850,000 customers and a net revenue of €1.288 million, Visma is one of Europe's leading software companies.
The transaction follows a number of recent acquisitions by Visma in the Netherlands in 2018, including Raet, Proactive, Idella, and Pink Web, and contributes to Visma's continuing expansion in this highly strategic region, whilst strengthening its Northern European leadership in the market. Visma will continue to look at opportunities to further increase its presence and product offering in the Netherlands during 2019.
EBPI complements Visma's portfolio and broadens the domains in which they are already active in the Netherlands. At the same time EBPI will benefit from a strong partner to further develop their footprint in the Netherlands whilst enabling the business to offer its services internationally via the Visma Group network.
All transactions