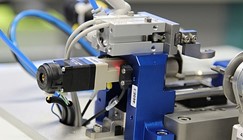 Nspyre acquires the engineering and information services activities from Irmato Group
25 January 2022
Blacktrace advised Irmato Group on the sale of the engineering and information services activities to Nspyre. Irmato Group divests the services in order to focus on industrial services (machinery and equipment).
Sector:
Business services
Activity:
Engineering & consultancy
Irmato is a multidisciplinary engineering and consultancy company for machinery- and professional equipment. Irmato Group employs three hundred people. Irmato Group has ten offices including Drachten, Eindhoven and Groningen. Irmato Group is also active in Germany through its office in Aachen. Major customers include Philips, ASML, Fokker and Stork. Irmato Group will continue to focus on its core activities relating to the provision of high-tech solutions for machine and equipment. Nspyre is a leading specialized IT service provider where technology matters. Their services cover the entire development process, from consultancy & project management, development and engineering, to management based on a Service Level Agreement. Nspyre employs six hundred people spread across offices in Utrecht, Eindhoven, Zwolle and Leek (Groningen). The company also has an office in Romania. Large customers are ASML and Philips. The divestment is the result of a tightening of Irmato Group's corporate strategy and the belief that the activities better justice to a company with a strong strategic fit. Nspyre engineering services would continue to specialize and strengthen in the field of mechanics and mechatronics. In addition, Nspyre wants to expand the knowledge of the entire product development process (CAD/CAM/CAE up to EDM/PDM and PLM).
All transactions