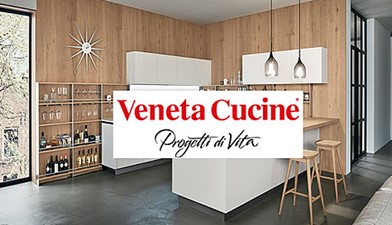 Veneta Cucine sold a 30% stake to NB Aurora
2 March 2022
Fineurop Soditic acted as exclusive financial advisor to Veneta Cucine S.p.A., in the sale of a 30% stake to NB Aurora for around Euro 36 million.
Activity:
Kitchen manufacturer
Veneta Cucine is a family-run company founded more than half a century ago. Today it is a leader in the design, production and distribution of kitchens, living rooms and furnishing accessories.
Over the years, the Group has steadily grown from a small local enterprise into a major multinational group with a managerial management model becoming today the largest Italian kitchen furniture platform.
Established in the outskirts of Treviso in 1967, the Group employs over 500 people that design, produce, manage and distribute top quality kitchens that combine craftsmanship and innovation.
With over 200 flagship stores in Italy and a very extensive distribution network of more than 1,000 qualified retailers in Europe, Asia, Africa, North and South America, Veneta Cucine achieved a 2020 turnover of around Euro 220 million.
Also in 2020, in a difficult period due to the pandemic, the Group opened 15 new mono-brand stores globally.
NB Aurora, permanent-capital vehicle listed on the Italian Stock Exchange (MIV segment), is expected to boost Veneta Cucine's growth, to consolidate its market position and further bolster its expansion in new and existing geographies, including the US.
All transactions