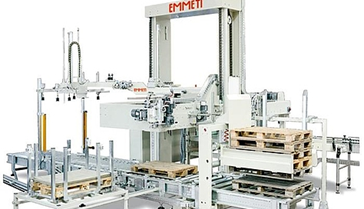 Xenon Private Equity purchased a majority stake in Emmeti, Mectra, Sipac and Logik
25 February 2022
Fineurop Soditic acted as exclusive financial advisor to Xenon Private Equity in the acquisition of a majority stake in Emmeti S.p.A., Mectra S.p.A., Sipac S.p.A. and Logik S.r.l. from private shareholders, in a management buyout transaction that foresees the creation of the new Group EMS.
Company:
Emmeti, Mectra, Sipac and Logik
Transaction:
Merger Acquisition
Activity:
packing line automation
Combining the four companies mentioned above, EMS Group will become world market leader in the palletization and depalletization field, as well as in the design, production and installation of packaging machines for glass and metal containers.
With a consolidated turnover of around Euro 130 million and a workforce of 290 employees, EMS will be able to offer a wide range of products and integrated services mainly in the automation of packing lines for food & beverage and glass industries.
EMS Group has already planned further investments and new acquisitions both in Italy and abroad.
All transactions